Next Meeting:
Tuesday, January 22 2019 7 PM at the Keizer City Hall. Arrive a few minutes early to get your raffle tickets. Everyone is welcome.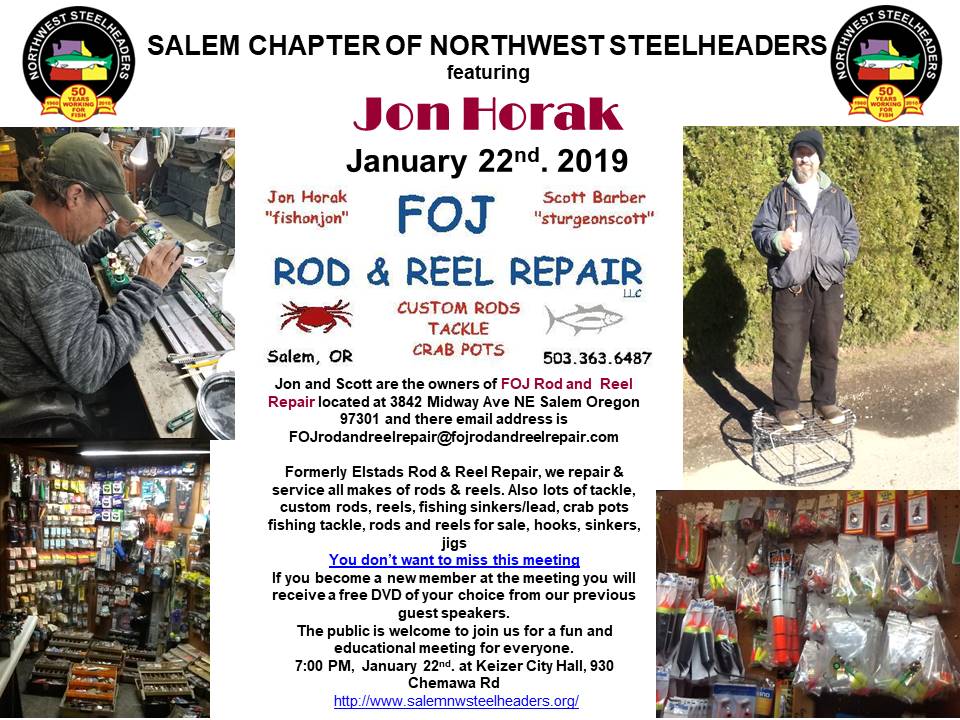 Learn the Santiam River Trips
The Santiam River Guides and Salem Chapter NW Steelheaders coordinates "Learn the River" trips to help drift boaters navigate the Santiam river safely.
River Level and Weather permitting, the first trip from Greens Bridge, at Jefferson, to the take out below the I-5 bridge and rest area is scheduled for 17 March 2018.
Members can launch boats at Greens Bridge, and park rigs in the area of the I-5 rest stop take out, down stream side. Members may self-shuttle back to Greens Bridge, the last shuttle will leave the take out at 9:30 a.m. for Greens Bridge.
Depending on river conditions this trip is considered to be the least challenging for boaters with minimum experience.
All persons will be required to sign releases, and have a "PFD." [life jacket]. Whistles and other safety gear is encouraged. There will be a safety and Q&A session before shoving off at 10:00 A.M.
Trip Coordinator is Bob Lusk he can be contacted at: 503-559-5576
U-tube video of this trip can be viewed at: https://www.youtube.com/watch?v=PqJrvPBzAgs
We meet at Keizer City Hall. Get there early to buy raffle tickets for gear and trips.
Know someone who would like to learn how to catch Steelhead? Share this link to our class in October that is held with ODFW: